My Pegasus Greek Restaurant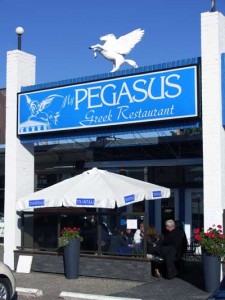 A well known name to local Greek food aficionados since 1983; when the doors first opened at the original 14th Street and 11th Avenue SW location. Pegasus is proud to continue its ongoing commitment to serving authentic Greek cuisine prepared in the traditional manner.
We prepare our dishes the old fashioned way, from scratch using quality ingredients. We order our Greek products from Kalamata Greek Grocers, importers of Greek staples: Olives, Feta & Kefalograviera (Saganaki) cheese, Tahini, vine leaves, phyllo pastry… all the traditional ingredients found in the Greek corner grocery.
For 40 years, we have been proud to serve our traditional recipes, in a comfortable dining room with a Greek atmosphere and we've been named by many of our patrons as the best Greek food in Calgary.
Our Greek home-style favorites include such standards as Moussaka, Kleftiko, Giovetsi, and more. Try our mouthwatering tapas: Kalamari, Spanakopita, Keftedes, Saganaki  or our dips: Hummus, Taramasalata, Melitsanosalata; and of course Tsatsiki, our homemade Greek yogurt & cucumber dip.
Enjoy our cozy ambiance and we will certainly provide you with an unforgettable evening.
Please enjoy 10% off ALL food and wine, pick up only.
Need it delivered? Visit us on DoorDash or UberEats, click on the link below.